Review Article on Multimodality Advanced Imaging and Intervention in Gland Disease
Apparent diffusion coefficient magnetic resonance imaging (ADC-MRI) in the axillary breast cancer lymph node metastasis detection: a narrative review
Introduction
Breast cancer is the most common cancer among women in the world (1-5). The main causes of cancer-related death are invasion and metastases. The usual site of spread outside the breast is to the lymph nodes in the axilla (6,7). Axillary lymph node metastasis is one of the most important prognostic factors in breast cancer patients (8). For this reason, the meticulous detection of axillary metastases in newly diagnosed breast cancer is essential for disease staging and treatment decision making (9-14). Unfortunately, the non-invasive differentiation between benign and malignant lymph nodes remains highly problematic, delaying the diagnosis, in case of metastatic risk in lymph nodes, to pathological examination (15,16). The sentinel node biopsy (17) is currently performed during conservative surgery and is eventually followed by axillary dissection. However, up to 70% of clinically non-metastatic patients are found to be free from malignant axillary disease at dissection and, furthermore, this surgical procedure may determine complications such as lymphedema, arm pain, infection, or seroma (18,19). With magnetic resonance imaging (MRI) (20,21), computed tomography (22), and ultrasonography (23-28), the preoperative study of axillary lymph node status is limited to qualitative and quantitative features such as morphological presentation (cortical thickness, presence of fatty hilum and cortical vascular flow, enhancement patterns, presence of grouping of lymph nodes) (29-31) and measurement of nodal dimensions (maximum long-axis diameter or long/short-axis ratio). All these criteria remain controversial and unsatisfactory for differentiation between metastatic and non-metastatic lymph nodes. We present the following article in accordance with the NARRATIVE REVIEW reporting checklist (available at http://dx.doi.org/10.21037/gs-20-546).
---
Basic physics of diffusion-weighted imaging (DWI)
An emerging potential in breast cancer MRI diagnosis is represented by DWI (32). DWI is a functional MRI technique that provides a new contrast mechanism and represents an informative tool about biological microenvironment changes (33). It is characterized by elevated sensitivity in the detection of tissues alterations evaluating the phenomenon known as Brownian motion of free water molecules, which primarily reflects the degree of tissues cellularity (34). Water molecule diffusion is prevented by tissues with a high cellular density, such as tumor tissues, but it is facilitated by a poorly cellular environment containing or by altered cell membranes, especially in case of necrotic lesions. Water motion degree in soft tissue results inversely correlated with tissue cellularity and integrity of cell membranes. Variations of extracellular and intracellular water protons will be reflected by proportional changes in the diffusion coefficient of the tissue, allowing collection of in vivo information about the biophysical properties of tissues. This parameter can be quantitatively defined and derived by DWI images expressing the entity of tissues restriction of diffusion (35). The strong point of DWI compared to dynamic contrast enhanced (DCE)-MRI is its high sensitivity to identify histological changes in the microscopic environment without need for contrast medium administration, which should be avoided in cases of pregnancy and impaired renal function (36-40).
---
DWI of lymph node metastases: current evidences
Recent literature reports that DWI with ADC values can be regarded as a useful method in the diagnosis and quantitative measurement of neoplasms (41-43); in particular, several evidences reported significantly lower ADC values in malignancies than in benign lesions and normal tissues (44,45). The ADC value has also been used to predict nodal metastases in many different cancers and to differentiate malignant from benign lymph nodes in various body regions and organs, such as head and neck, uterine, and cervical cancers (46-51). The possible functional mechanism is that high cellularity in lymph node metastases produced by the tumor cells, may decrease extracellular and intracellular spaces, and restrict water molecules mobility, finally leading to a reduction of ADC value (52). The first results about DWI sequences in lymph nodes were shown in patients affected by uterine malignancy. Nakai et al. (53) pointed out that the identification of pelvic pathologic lymph nodes for uterine malignancy is much higher on DWI than conventional T2-weighted (T2W) images. This was related to the clear gap between lymph nodal signal and the surrounding structures such as bowel and vessels. Also, Kim et al. (54) showed that ADC value of pathologic lymph nodes was lower than those of not-pathologic lymph nodes in patients with uterine cervical cancer. On the contrary, Sumi et al. (55) showed that the ADC values for metastatic lymph nodes in the neck tumors are lower than in non-metastatic, but the resulting differences were not statistically significant. Most of the available studies were focused on cervical lymph nodes in patients with head and neck cancer, and those from pelvic uterine cancer (endometrial and cervical), rectal and prostate; there were reports of similar assessments for oesophageal, lung and abdominal malignancies. Furthermore, other researchers have described no statistically significant differences between ADC values of benign and malignant lymph nodes (54-63). On the contrary, in some studies (55,64) metastatic lymph nodes demonstrate ADC values higher than those not pathologic, phenomena with different results conflicting with those above reported, that may depend on the cytological and histological features of metastases: the presence of necrotic area, inflammation and oedema justifies the lowest tissue cellularity and could increase diffusivity with T2 shine through effect characterized by DWI low signal intensity (65). In addition, in some malignant lymph nodes, benign tissue elements may be present alongside the malignant components, especially in the case of presence of micro-metastases, not possibly highlighted by DWI sequences.
---
DWI of axillary lymph nodes in breast cancer
The above-mentioned studies indicated that ADC values of lymph nodes with metastasis were lower compared to those of benign lymph nodes, which may provide a diagnostic value for the evaluation of metastatic lymph node in breast cancer (9). Most part of breast cancer literature focusing on axillary nodal involvement diagnosis shows that, among different studies, lower ADC values were observed in metastatic lymph nodes, and that ADC mean values were statistically significant different between metastatic and non-metastatic axillary lymph nodes (9,35,46,66-73). Yamaguchi et al. (67) in their study showed ADC value of metastatic axillary lymph nodes ranging from 0.553×10−3 mm2/s to 1.135×10−3 mm2/s and those of non-metastatic axillary lymph nodes ranged from 0.722×10−3 mm2/s to 1.739×10−3 mm2/s; Fornasa et al. (52,66) described mean ADC values of metastatic lymph nodes of 0.878×10−3 mm2/s and mean ADC values of benign lymph nodes of 1.494×10−3 mm2/s. These results are following the majority of authors, who affirm the reliability of DWI in the identification of lymph nodes involved in malignant diseases. This might depend on the relatively high cellularity and rare necrosis in nodal metastases derived from neoplastic mammary epithelial cells. The range of reported values, in other studies, is broad ranging from 0.666×10−3 mm2/s to 1.369×10−3 mm2/s (64,67,69,70). In our unpublished experience, we retrospectively evaluated breast MRI performed on a 1.5T scanner (Signa Excite, General Electric Medical System, Milwaukee, WI, USA) of 107 patients with newly diagnosed breast cancer who had undergone axillary dissection/sentinel lymph node biopsy and whose definitive surgical and histological reports were available (median age 51±6, 70 patients affected by invasive ductal carcinoma, 28 by invasive lobular carcinoma, 3 by tubular adenocarcinoma and 6 by papillary carcinoma). Two groups were identified according to the nodal status: 50 women with breast carcinoma and metastatic nodal disease and 57 patients with breast carcinoma, but without metastatic axillary lymph nodes involvement. We found that median ADC value in the metastatic nodal disease group (median =0.638×10−3 mm2/s) was statistically significantly lower than that of the non-metastatic axillary lymph node group (median =1.24×10−3 mm2/s) (P≤0.001) (Figure 1). The area under the receiver operating characteristic (ROC) curve was 0.876 (95% CI: 0.783–0.939). The sensitivity analysis indicated that an ADC value of 0.8×10−3 mm2/s was the optimal cut-off value for the discrimination between metastatic and non-metastatic lymph-nodes (Figures 2,3). This cut-off value obtained a sensitivity, specificity, positive predictive value and negative predictive value of 82.6%, 86%, 70.4% and 92.5%, respectively (Table 1). These results confirm the accuracy and the validity of DWI sequence and ADC maps to predict lymph-nodal involvement in breast cancer, and to exclude nodal involvement with high ADC values with high specificity (86%) and high NPV (92.5%).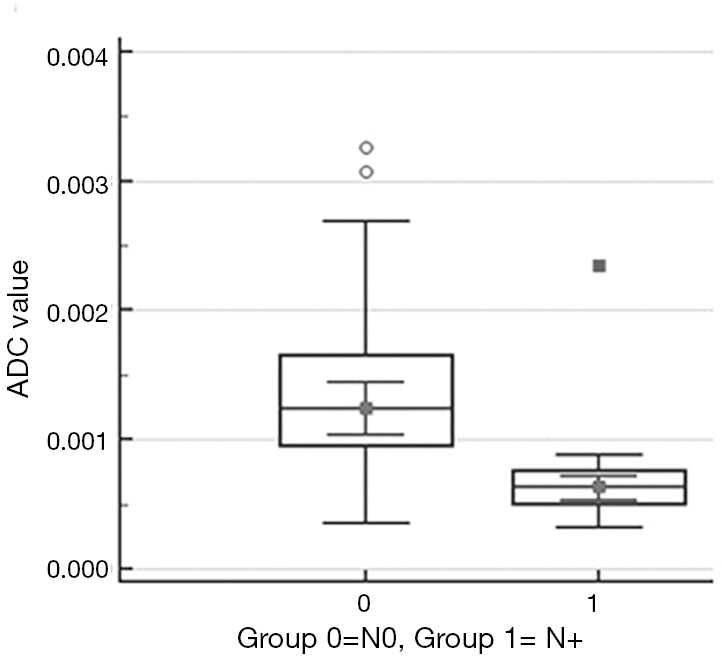 Figure 1 ADC values of metastatic and non-metastatic lymph nodes. ADC values of metastatic lymph nodes were significantly lower than those of non-metastatic lymph nodes (P<0.001). ADC, apparent diffusion coefficient.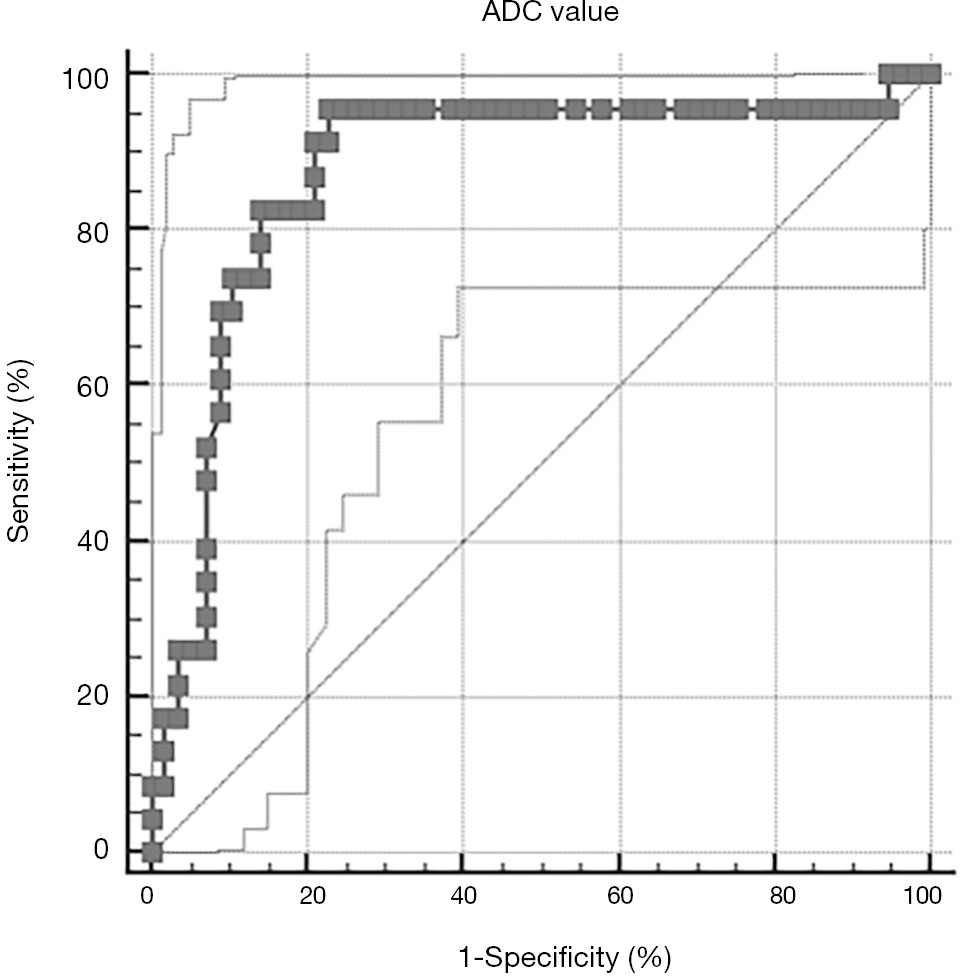 Figure 2 The area under the ROC curve was 0,876. Using an ADC cut-off value of 0.8×10−3 mm2/s, sensitivity and specificity for diagnosing metastatic axillary lymph node were 82.6% and 86% respectively. ROC, receiver operating characteristic; ADC, apparent diffusion coefficient.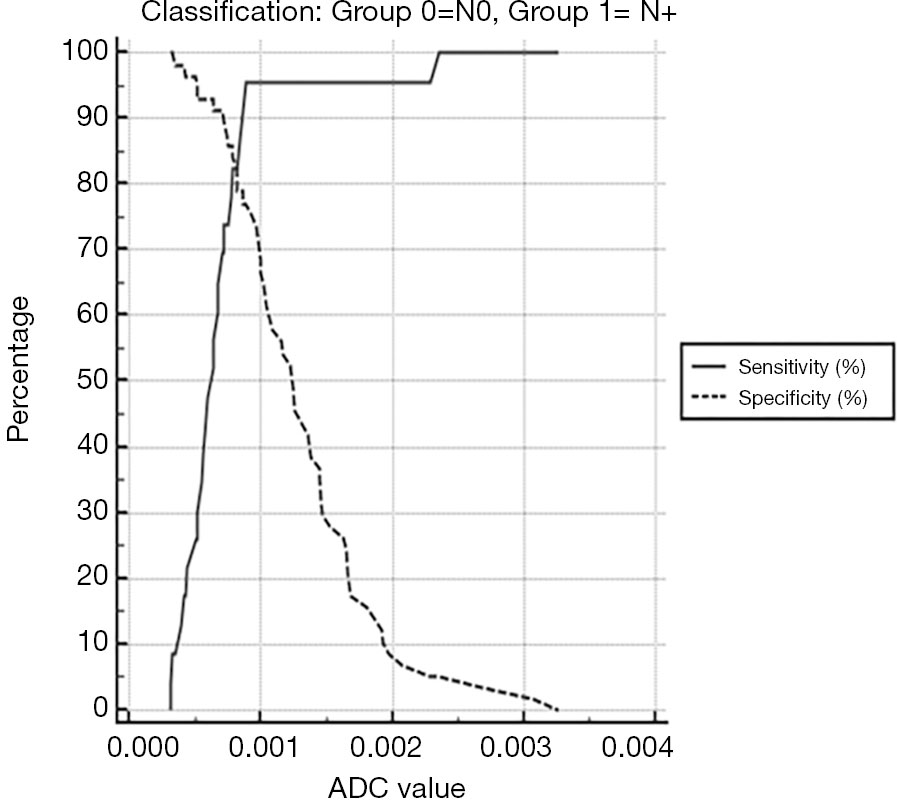 Figure 3 Graphical representation of ADC cut-off value and related specificity and sensitivity. ADC, apparent diffusion coefficient.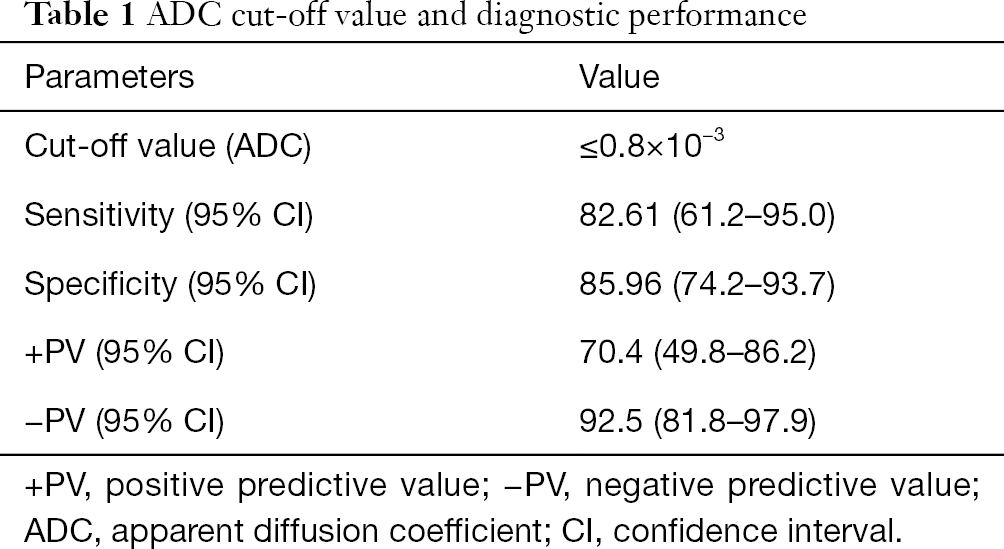 Table 1
ADC cut-off value and diagnostic performance
Full table
---
DWI of axillary lymph nodes: technical considerations
The variability of the data reported in literature may be due to the differences in specimen population, MRI system, different b-values, differences in the use of contrast media and differences in tumor histology. In particular, in a systematic review (43), differences due to country stratified analyses and MRI machine types emerged; ADC values on DWI were apparently decreased in metastatic lymph nodes among China, Italy, and Egypt, while such association was not found in Japan and Korea. One Japanese study shows ADC values of metastatic lymph nodes to be significantly greater than that of the benign ones, probably because of low cellularity of nodal metastases connected with low cellularity primary breast lesions, necrotic areas or oedema (64). Moreover, there is no correlation between decreased ADC values and metastatic lymph nodes when ADC values are calculated on non-Philips 1.5T MRI scanners, while there is no statistically significant difference described in ADC values calculated by Philips 1.5 MRI scanners. These results implied that the MRI scanner technical specifications might affect the association between ADC values and nodal involvement (43). Region of interest (ROI) sampling is another important issue for the assessment of ADC values; in the authors' experience, circular ROIs are placed in the axillary lymph node on DWI, carefully located in the central part of the lymph node with normal cortex-medulla ratio or in the central part of the lymph node "package", taking particular care in avoiding necrotic areas, and then copied to the ADC map (Figures 4,5). For an accurate correlation between histological and DWI findings, during the MR images review, the location of the selected lymph node within the axilla is evaluated with the breast surgeon with the support of the operative and histological report and defined by Berg levels (74). Axillary lymph nodes with short-axis diameter equal to or greater than 4 mm are included in our analysis. T2W fat suppression images are employed to identify involved lymph nodes, as anatomical reference, evaluating size, shape, and depth from the skin surface. Then, the lymph node of interest is identified on DWI through slice by slice comparison of T2W fat suppression and DWI. ADC values are calculated using two b-values (0 and 800 s/mm2) through the specific formula: ADC =ln(SI1/SI2)/800 in which SI1 and SI2 are signal intensities for b =0 and 800 s/mm2.
Figure 4 MRI images in patient with breast cancer and metastatic lymph nodes. (A) Axial T2-weighted fat suppression image for the localisation of the lymph node under analysis; (B) ADC map with three ROI positioning; ADC value is obtained by the mean of three measured values. MRI, magnetic resonance imaging; ADC, apparent diffusion coefficient; ROI, region of interest.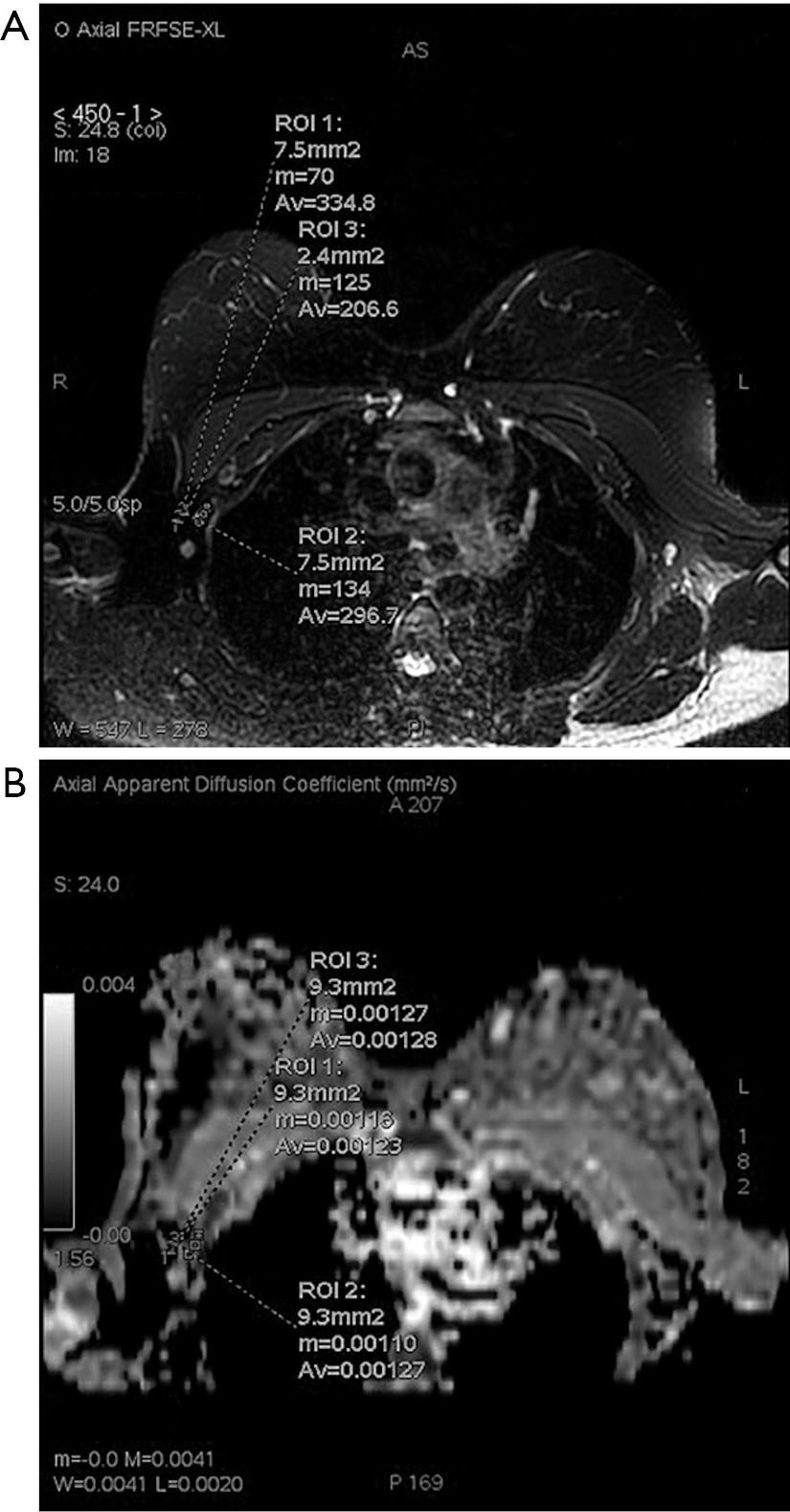 Figure 5 MRI images of a patient with breast carcinoma and benign lymph nodes. (A) Axial T2-weighted fat suppression image for the localisation of the lymph node under analysis; (B) ADC map with three ROI positioning; ADC value is obtained by the mean of three measured values. MRI, magnetic resonance imaging; ADC, apparent diffusion coefficient; ROI, region of interest.
Currently, there is not homogeneity about DWI acquisition timing, whether before (66) or after (67) contrast medium injection. Some studies showed that gadolinium may lead to reduced micro-perfusion and might alter the ADC values (75) while others affirm that gadolinium does not alter tissue diffusion (76-78). In our protocol, DWI images are acquired in the axial plane [free-breathing acquisition, echo planar imaging (EPI) sequence, repetition time (TR)/echo time (TE) 4,000/55.2 ms; acquisition matrix 128×128; number of excitations (NEX) 8; field of view (FOV) 34×34 cm; slice thickness 3 mm with 0.3 mm interval, receiver bandwidth 62.5–250, acceleration factor 2, b values 0 s/mm2 and 800 s/mm2], before the administration of contrast medium (Gd-BOPTA), to overcome the possible influence of the contrast agent on ADC values.
Also, different magnetic field intensities and different b values may affect ADC values, creating a not-easily comparable pool of data (46,64).
---
Conclusions
DWI sequences are developing rapidly with a progressive technical improvement, especially in spatial resolution and image quality, allowing a more refined morphological assessment (79). The DWI-ADC sequence could be used in the future to avoid axillary dissection in patients with low-intermediate risk of lymph-node involvement (66) as it is strongly related to axillary metastatic involvement; however, technological advances in DWI applicability and protocol standardization are still not ripe to avoid axillary dissection on the basis of ADC results. The goal of the future will be to achieve the least invasive approach to the patient. Some authors showed how DWI could be represent the main element of non-enhanced MRI examination with good sensitivity and high specificity, particularly in the study of mass lesions. According to some authors, DWI sequences could be implemented in non-contrast MRI screening programmes, considering the question of gadolinium-based contrast agent toxicity and its brain deposits, even in the potential hypothesis of avoiding the double reading (71,80-82). Moreover, the quantitative data derived will in the near future be the most important instrumental finding for radiomics analysis, which with artificial intelligence are revolutionizing the current concept of imaging (83,84).
---
Acknowledgments
Funding: None.
---
Footnote
Provenance and Peer Review: This article was commissioned by the editorial office, Gland Surgery for the series "Multimodality Advanced Imaging and Intervention in Gland Diseases". The article has undergone external peer review.
Reporting Checklist: The authors have completed the NARRATIVE REVIEW reporting checklist. Available at http://dx.doi.org/10.21037/gs-20-546
Conflicts of Interest: All authors have completed the ICMJE uniform disclosure form (available at http://dx.doi.org/10.21037/gs-20-546). The series "Multimodality Advanced Imaging and Intervention in Gland Diseases" was commissioned by the editorial office without any funding or sponsorship. Antonio Barile served as the unpaid Guest Editor of the series. The other authors have no other conflicts of interest to declare.
Ethical Statement: The authors are accountable for all aspects of the work in ensuring that questions related to the accuracy or integrity of any part of the work are appropriately investigated and resolved.
Open Access Statement: This is an Open Access article distributed in accordance with the Creative Commons Attribution-NonCommercial-NoDerivs 4.0 International License (CC BY-NC-ND 4.0), which permits the non-commercial replication and distribution of the article with the strict proviso that no changes or edits are made and the original work is properly cited (including links to both the formal publication through the relevant DOI and the license). See: https://creativecommons.org/licenses/by-nc-nd/4.0/.
---
References
Cite this article as: De Cataldo C, Bruno F, Palumbo P, Di Sibio A, Arrigoni F, Clemente A, Bafile A, Gravina GL, Cappabianca S, Barile A, Splendiani A, Masciocchi C, Di Cesare E. Apparent diffusion coefficient magnetic resonance imaging (ADC-MRI) in the axillary breast cancer lymph node metastasis detection: a narrative review. Gland Surg 2020;9(6):2225-2234. doi: 10.21037/gs-20-546