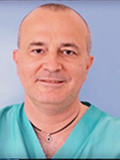 Gabriele Materazzi, MD
Department of Surgery, University of Pisa, Pisa, Italy
Dr. Gabriele Materazzi is Associate Professor of Surgery at the University of Pisa,  Department of Surgery. Dr Materazzi graduated at the Faculty of Medicine in Pisa, and in the postgraduate school of General Surgery in Pisa. 

He had also postgraduate training in endocrine surgery at the Hammersmith Hospital in London (UK) and at the Brown University (Rhode Island Hospital) in Providence (US). 
Dr. Materazzi's principle research interests have been in surgical disorders of the thyroid,parathyroid, and adrenal glands. He has a particular interest in endocrine surgical oncology (thyroid and parathyroid cancer), and novel technologies in endocrine surgery (Robotic Surgery, transaxillary thyroidectomy), as well as minimally invasive endocrine surgery (retroperitoneoscopic adrenalectomy, minimally invasive thyroidectomy and parathyroidectomy).
Dr Materazzi is the author of more than 150 peer-reviewed publications and multiple book chapters.

Terms of Appointment: June, 2015 - August, 2018; September, 2018 - August, 2020