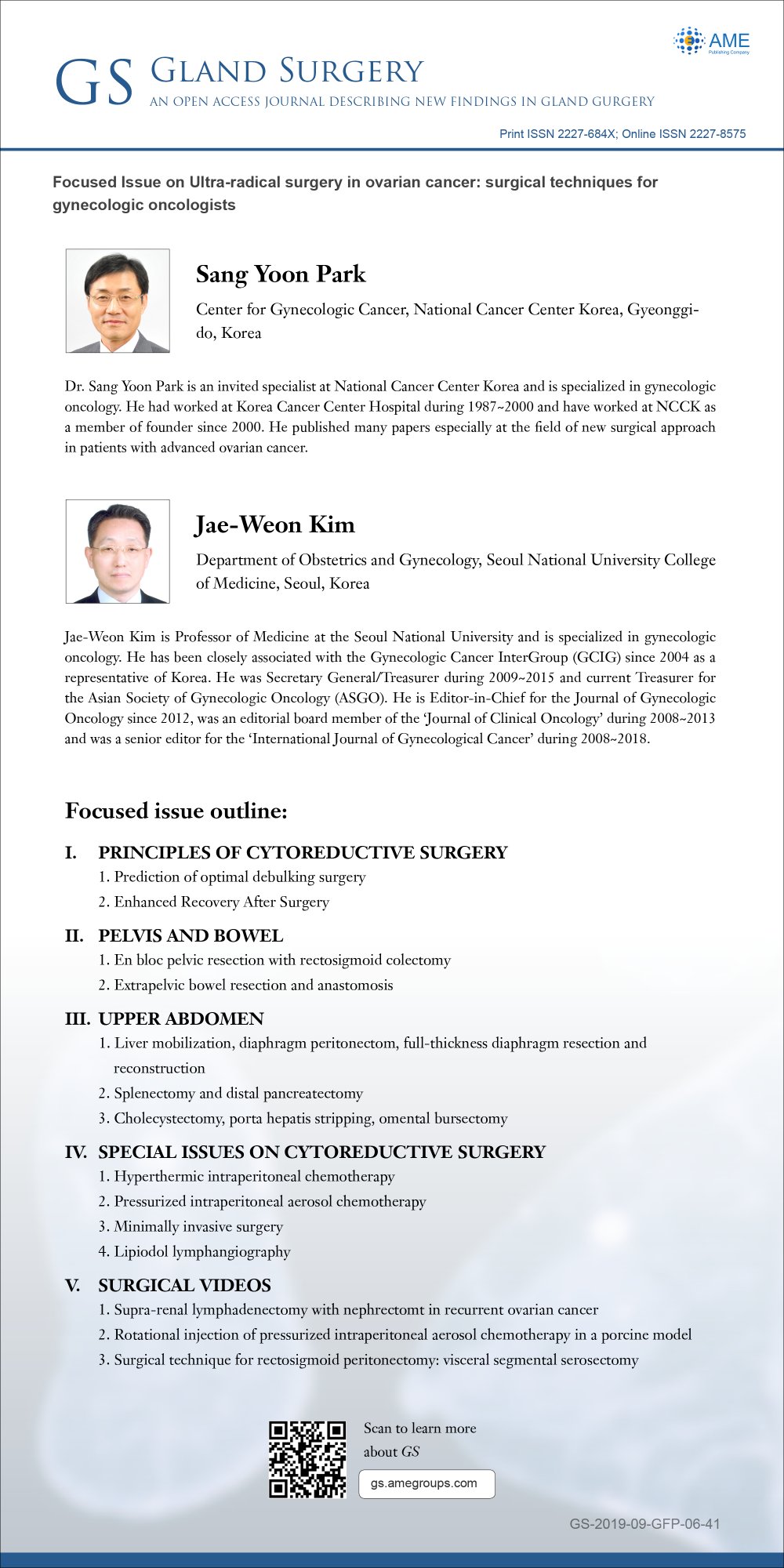 This focused issue on "Ultra-radical surgery in ovarian cancer: surgical techniques for gynecologic oncologists" is edited by Dr. Sang Yoon Park, from Center for Gynecologic Cancer, National Cancer Center Korea, Gyeonggi-do, Korea and Dr. Jae-Weon Kim, from Department of Obstetrics and Gynecology, Seoul National University College of Medicine, Seoul, Korea.

Dr. Sang Yoon Park is an invited specialist at National Cancer Center Korea and is specialized in gynecologic oncology. He had worked at Korea Cancer Center Hospital during 1987~2000 and have worked at NCCK as a member of founder since 2000. He published many papers especially at the field of new surgical approach in patients with advanced ovarian cancer.

Jae-Weon Kim is Professor of Medicine at the Seoul National University and is specialized in gynecologic oncology. He has been closely associated with the Gynecologic Cancer InterGroup (GCIG) since 2004 as a representative of Korea. He was Secretary General/Treasurer during 2009~2015 and current Treasurer for the Asian Society of Gynecologic Oncology (ASGO). He is Editor-in-Chief for the Journal of Gynecologic Oncology since 2012, was an editorial board member of the 'Journal of Clinical Oncology' during 2008~2013 and was a senior editor for the 'International Journal of Gynecological Cancer' during 2008~2018.


Focused issue outline:

I. PRINCIPLES OF CYTOREDUCTIVE SURGERY

Prediction of optimal debulking surgery
Enhanced Recovery After Surgery
II. PELVIS AND BOWEL
En bloc pelvic resection with rectosigmoid colectomy
Extrapelvic bowel resection and anastomosis
III. UPPER ABDOMEN
Liver mobilization, diaphragm peritonectom, full-thickness diaphragm resection and reconstruction
Splenectomy and distal pancreatectomy
Cholecystectomy, porta hepatis stripping, omental bursectomy
IV. SPECIAL ISSUES ON CYTOREDUCTIVE SURGERY
Hyperthermic intraperitoneal chemotherapy
Pressurized intraperitoneal aerosol chemotherapy
Minimally invasive surgery
Lipiodol lymphangiography
V. SURGICAL VIDEOS
Supra-renal lymphadenectomy with nephrectomt in recurrent ovarian cancer
Rotational injection of pressurized intraperitoneal aerosol chemotherapy in a porcine model
Surgical technique for rectosigmoid peritonectomy: visceral segmental serosectomy
Disclosure:
The series "Ultra-radical Surgery in Ovarian Cancer: Surgical Techniques for Gynecologic Oncologist" was commissioned by the editorial office, Gland Surgery without any sponsorship or funding. Drs. Sang Yoon Park and Jae-Weon Kim are serving as the unpaid Guest Editors for the series.