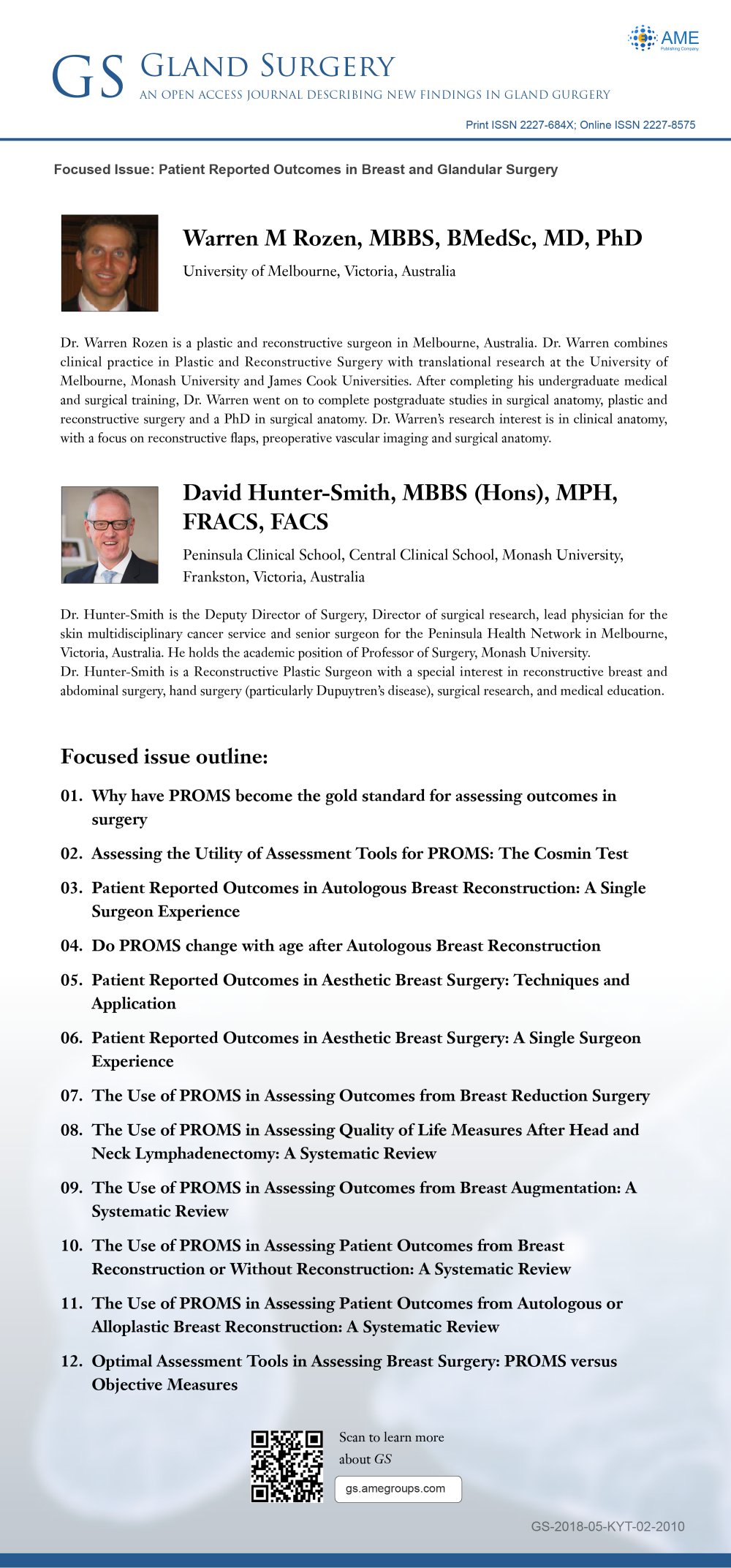 This focused issue on "Patient Reported Outcomes in Breast and Glandular Surgery" is edited by Dr. Warren M Rozen, from University of Melbourne, Victoria, Australia; and Dr. David Hunter-Smith, from Peninsula Clinical School, Central Clinical School, Monash University, Frankston, Victoria, Australia.

Dr. Warren Rozen is a plastic and reconstructive surgeon in Melbourne, Australia. Dr. Warren combines clinical practice in Plastic and Reconstructive Surgery with translational research at the University of Melbourne, Monash University and James Cook Universities. After completing his undergraduate medical and surgical training, Dr. Warren went on to complete postgraduate studies in surgical anatomy, plastic and reconstructive surgery and a PhD in surgical anatomy. Dr. Warren's research interest is in clinical anatomy, with a focus on reconstructive flaps, preoperative vascular imaging and surgical anatomy.

Dr. David Hunter-Smith is the Deputy Director of Surgery, Director of surgical research, lead physician for the skin multidisciplinary cancer service and senior surgeon for the Peninsula Health Network in Melbourne, Victoria, Australia. He holds the academic position of Professor of Surgery, Monash University. He is a Reconstructive Plastic Surgeon with a special interest in reconstructive breast and abdominal surgery, hand surgery (particularly Dupuytren's disease), surgical research, and medical education.

Focused issue outline:
Why have PROMS become the gold standard for assessing outcomes in surgery
Assessing the Utility of Assessment Tools for PROMS: The Cosmin Test
Patient Reported Outcomes in Autologous Breast Reconstruction: A Single Surgeon Experience
Do PROMS change with age after Autologous Breast Reconstruction
Patient Reported Outcomes in Aesthetic Breast Surgery: Techniques and Application
Patient Reported Outcomes in Aesthetic Breast Surgery: A Single Surgeon Experience
The Use of PROMS in Assessing Outcomes from Breast Reduction Surgery
The Use of PROMS in Assessing Quality of Life Measures After Head and Neck Lymphadenectomy: A Systematic Review
The Use of PROMS in Assessing Outcomes from Breast Augmentation: A Systematic Review
The Use of PROMS in Assessing Patient Outcomes from Breast Reconstruction or Without Reconstruction: A Systematic Review
The Use of PROMS in Assessing Patient Outcomes from Autologous or Alloplastic Breast Reconstruction: A Systematic Review
Optimal Assessment Tools in Assessing Breast Surgery: PROMS versus Objective Measures