News
Highlights of Gland Surgery 2015: breast surgery
The journal Gland Surgery will start as a bimonthly publication from 2015 after more than 2 years' publication history as a quarterly journal with 11 issues released. As one of the main subjects of Gland Surgery, two special issues related to breast surgery are to be released in 2015 with specific topics on "Advancements and Innovations in Breast Reconstruction" and "Conservative Mastectomies Issue". Free submissions on these topics are welcomed to be included to the special issues after standard peer-review process and the guest editors' final review.
---
Advancements and innovations in breast reconstruction
Dr. Maurice Nahabedian from Georgetown University has been invited to serve as guest editor for the special issue on "Advancements and Innovations in Breast Reconstruction" initiated from late 2014, with renowned experts being involved in this edition (Table 1). The intent of this edition is to provide the readership with up-to-date information on prosthetic and autologous breast reconstruction with the goal of improving surgical and aesthetic outcomes. There have been significant advancements in the areas of prosthetic devices, fat grafting, use of acellular dermal matrices, perforator flaps, preoperative and intraoperative imaging as well as oncoplastic surgery that have provided surgeons and patients with more options to achieve ideal aesthetics. Other relevant subjects include the importance of preoperative evaluation as well as radiation therapy and the effects it can have on the final outcome. This special edition will certainly be a "must-read" for all plastic and breast surgeons involved in breast surgery.
---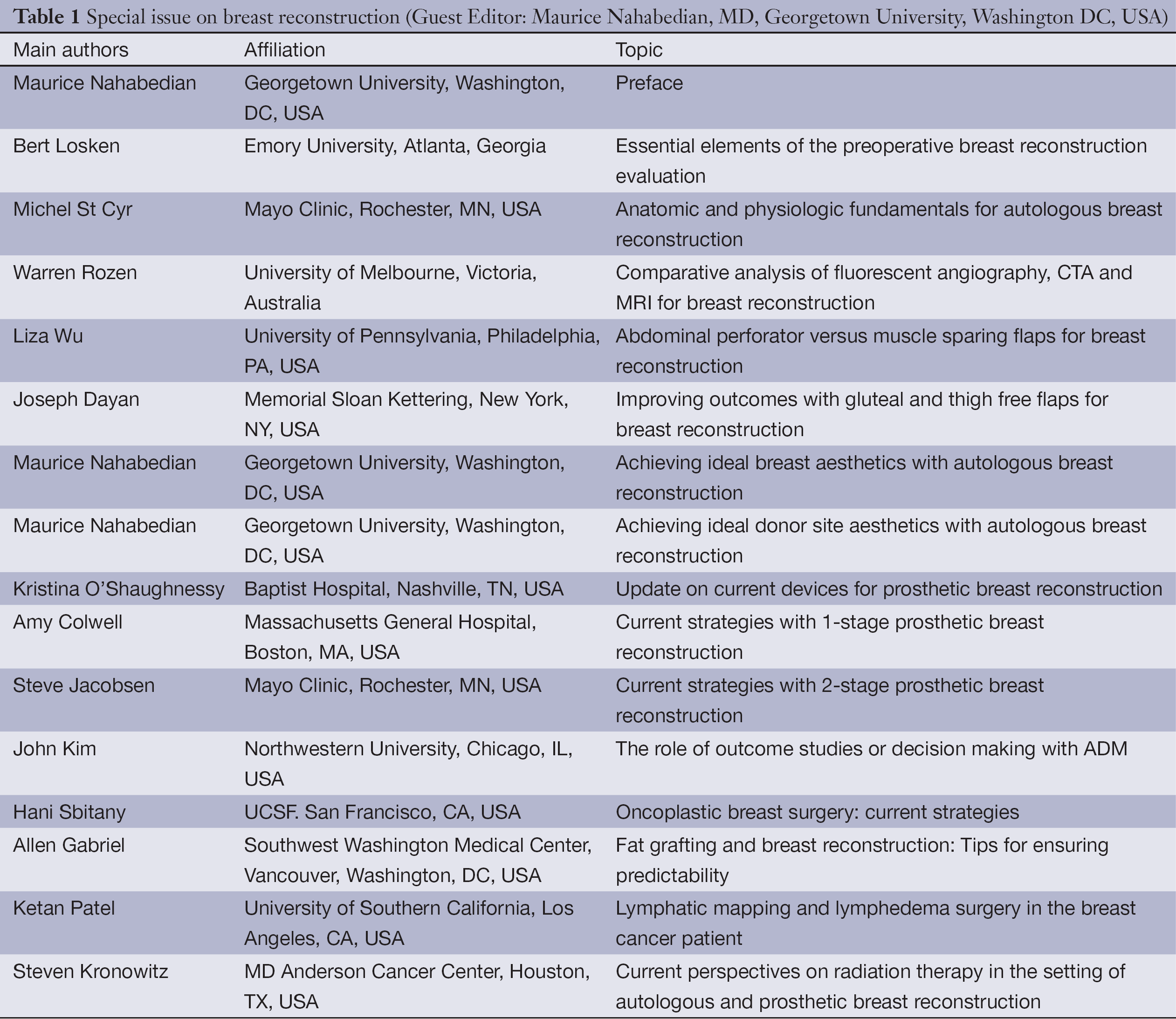 Table 1
Special issue on breast reconstruction (Guest Editor: Maurice Nahabedian, MD, Georgetown University, Washington DC, USA)
Full table
Conservative mastectomies
The term "conservative mastectomies" was originally raised in 2009 by Dr. Maurizio Bruno Nava (Istituto Nazionale Dei Tumori, Italy) and his colleagues (1). Together with Dr. Alberto Rancati from University of Buenos Aires, Argentina, a special issue on the subject is proposed. Promising experts from different centers of many countries are invited to participate in and their precious experiences in various aspects of conservative mastectomies are to be shared in this special edition (Table 2). The aim of this special issue is to have the most comprehensive and thorough edition on conservative mastectomies. Hopefully it will serve as a valuable resource to breast surgery related members.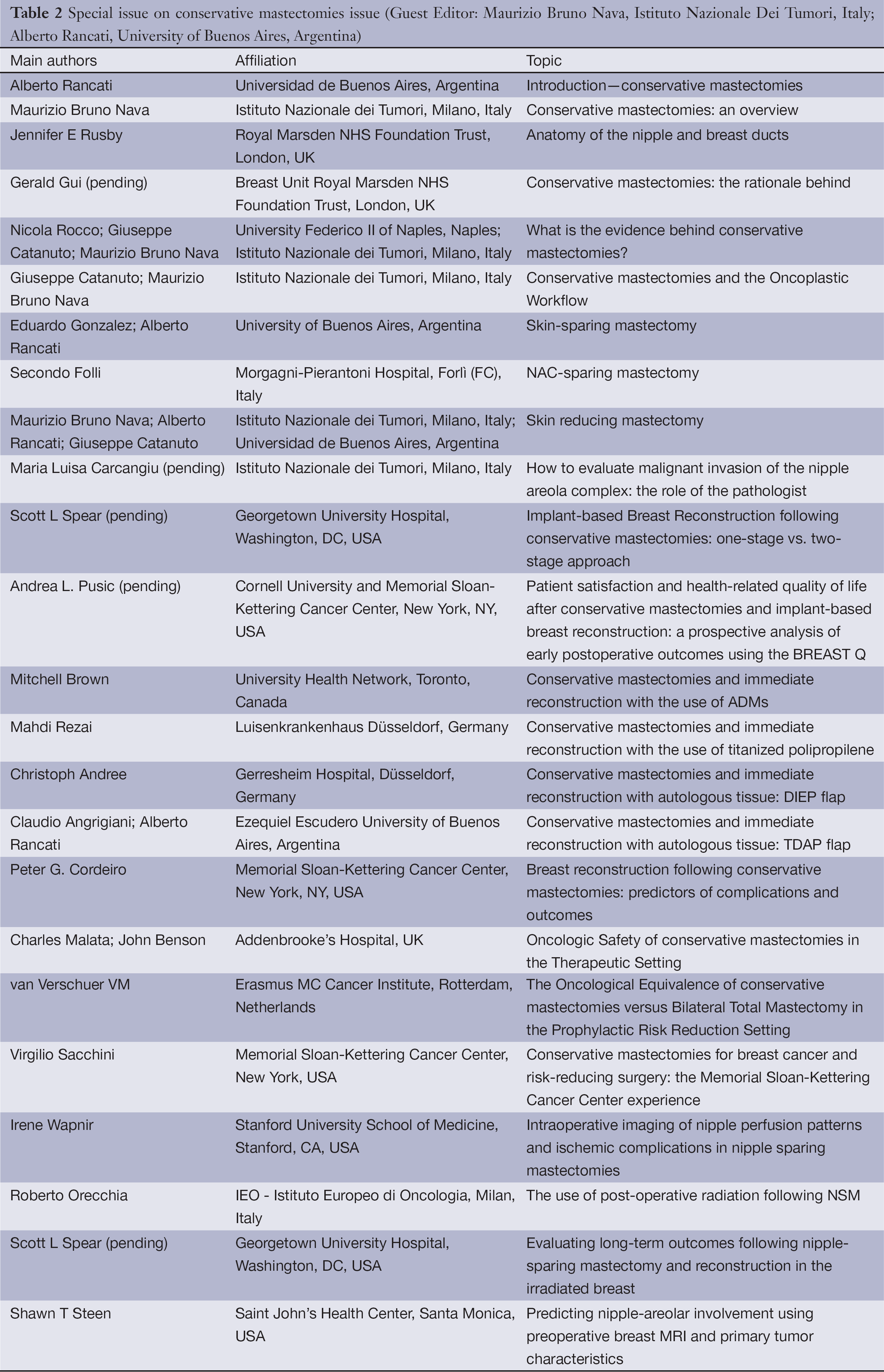 Table 2
Special issue on conservative mastectomies issue (Guest Editor: Maurizio Bruno Nava, Istituto Nazionale Dei Tumori, Italy; Alberto Rancati, University of Buenos Aires, Argentina)
Full table
---
Acknowledgements
Disclosure: The author declares no conflict of interest.
---
References
Nava MB, Catanuto G, Pennati A, et al. Conservative mastectomies. Aesthetic Plast Surg 2009;33:681-6. [PubMed]
Cite this article as: Zhong NQ. Highlights of Gland Surgery 2015: breast surgery. Gland Surg 2014;3(4):E10-E13. doi: 10.3978/j.issn.2227-684X.2014.11.04