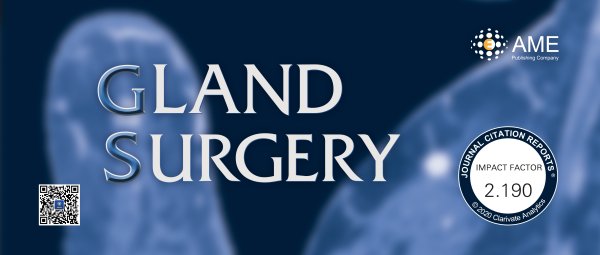 We are pleased to announce to our readers that Gland Surgery (GS) has attained its latest impact factor update for the 2019 citation year: 2.190.
The impact factor, as published in the annual Journal Citation Reports (JCR), is a calculation determined based on the number of citations accumulated in 2018 for manuscripts published in 2016 and 2017.
Gland Surgery (Gland Surg; GS, Print ISSN 2227-684X; Online ISSN 2227-8575) is an international, open access, and peer-reviewed journal indexed by PubMed/PubMed Central and Science Citation Indexed Expanded (SCIE), providing cutting-edge findings and practical information on diagnosis, prevention, and treatment of gland diseases, such as breast, thyroid, adrenal, pancreas surgery and other related fields.
Aiming for the continued development of article quality alongside the growth of the numbers of submissions, we have recently emphasized improving the publication quality and processing transparency. Some significant arrangements were made in GS in the past few months:
1. Integration with Publons. In April 2020, our publisher AME Publishing Company has entered into an official partnership with Publons. Thus, GS's peer review system is now integrated seamlessly into the Publons platform (https://publons.com/publisher/6041/ame-publishing-company). The partnership allows for the contributions of our expert peer-reviewers to be recognized anytime. For more information, see: http://gs.amegroups.com/announcement/view/3757.
2. Reporting guidelines for original research. For a higher standard of publishing and research quality, we have introduced a series of reporting guidelines for different research types. Each original research submission to GS is now required to follow the EQUATOR research reporting guidelines and should include a checklist. If the article is accepted, the related reporting checklists will be published online with the article. For more details, please check the updated guidelines for authors: http://gs.amegroups.com/pages/view/guidelines-for-authors.
3. Transparent peer review process. To commit to openness and accountability, and to increase the level of transparency throughout our peer review process, our Editorial Office has decided to implement a transparent peer review process as an option for all manuscripts submitted to GS from April 22, 2020. Click here for further information: http://gs.amegroups.com/announcement/view/3748.
We strive to follow the best practices in publishing. The announcement of the journal's latest impact factor is not only a significant achievement for the journal but also the recognition of its more significant scientific reach. Here, we would like to extend our heartfelt gratitude to all our editorial team members, guest editors, authors, and reviewers for their significant contributions.
We look forward to the continuous cooperation with all the individuals mentioned above and those who are interested in gland disease to bring more exciting content to readers in the coming future.
Editorial Office
Gland Surgery
June 30, 2020
---